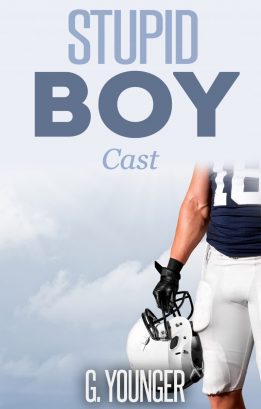 About Cast Page:
This describes the main characters of the Stupid Boy series. The entire series has nearly 1200 characters; this does not begin to describe or even name all of them, but only addresses those who have significant parts to play in our story.
The cast members are grouped by affiliation to our main character: family, friends, school, sports activities, business, movies, modeling, etc. The easiest way to find a character is to use CTRL-F and enter the character name. That will save the reader a lot of manual searching and scrolling. Note that many characters are listed more than once, as they have multiple roles in our story.
WARNING: There are spoilers here, so be careful what you read.
Main Character
David Allen Dawson – our protagonist
Birthday: July 4
Straight-A student
Model, actor
Plays football and baseball; highly regarded in both sports
David's Children
Jacob Jeffrey "Coby" Dawson

Born April 12 of junior year
Mother: Pam Bell
Named in memory of both Pam's (Jake "Otter") and David's (Jeff Rigger) friends who have passed away

David "Little David" Pratt

Informally adopted by David Dawson
Born October 16 of junior year
Mother: Peggy Pratt

Dated Greg and later dated David, both prior to her pregnancy

Father: Mitch Evans – not a part of Little David's life
Redhead, like his mother

Dawson Douglas Kincaid

Born February 6 of Junior Year

Twin brother of Allen William Kincaid

Curly blond hair, blue eyes
Mother: Ashley Kincaid

Allen William Kincaid

Born February 6 of junior year

Twin brother of Dawson Douglas Kincaid

Curly blond hair, blue eyes
Mother: Ashley Kincaid

Carol Ann White

Born March 22 of junior year
Black hair, brown eyes
Mother: Scarlet White
David's Girlfriends
Tami Glade (he wishes) (well, most of the time)
Cindy Lewis

Does makeover on David and teaches him to be "dateable"
Three years ahead of him in school
Previously dated David's older brother

Suzanne Ball

Cindy Lewis's teaching aid (practice dummy) in training David
Three years ahead of him in school

Tracy Dole

Head cheerleader
Had two bad breakups with David

Evelyn "Eve" Holiday

Trying to make it as a country singer
1 year older than David
Walked away without even saying goodbye
Previously dated David's older brother

April Lacier

At least 6 feet tall, on basketball team
Shy, slouches a bit
Straight-A student
David's girlfriend freshman year

Kara Tasman

Older than David
Model; has done several shoots with David
They're together whenever they're both in the same city, which isn't often

Nancy Brock

Pretty brunette sophomore at University of Kentucky
David meets her on a recruiting trip

Harper Mass

5'8", long silky black hair
Tami's classmate at Wesleyan

Peggy Pratt

Freckles, green eyes, alabaster skin, long curly red hair
Previously dated David's older brother
David has had a crush on her for several years

Brook Davis

Brown hair, brown eyes
Usually dates college guys
David's Family
Greg Dawson

David's older brother by three years
Wife: Angie (née Connor)
Children

Kyle Dawson

Born October 22 of freshman year

Mackenzie Bradley "Mac" Dawson

Adopted
Birth mother: Joyce Bradley
Has laid claim to "Bolt," a roan horse on the Pearson farm

Nathan Edward "Nate" Dawson

Born May 11 of sophomore year

Carol Dawson (née Felton)

David's mother
Very attractive woman
Real estate agent
Cancer survivor

Robert "Rob" Dawson

David's father
Manages golf course at Dunn's Country Club

John Dawson

David's paternal uncle, younger brother to Rob
Wife: Bonnie
Degreed psychologist, but raises cattle
Partner in one of David's businesses and sits on his board of directors

Grandma Lorraine Dawson

Widow of Davey Dawson, politician
Mother of Robert and John Dawson
Would like to see David follow in his grandfather's footsteps
Lives with Yelena Antakov on David's farm

Jim Felton

David's maternal uncle, younger brother to Carol
Consultant
Known for quickly wearing out his welcome when he visits
Wife: Tanya
Children

Julie (elder daughter)
Elizabeth "El" Felton (younger daughter)

Has a huge crush on David

Grandma Felton

Carol Dawson's mother
Takes Carol to task when she's fighting with David

Phil Prince

David's half brother

Secret that when revealed junior year almost tears apart Rob and Carol's marriage

Plays on Lincoln's football team with David (fullback, receiver, quarterback)
Mother: Victoria "Vickie" Wesley-Prince
Stepfather: Carl Prince

Duke

Labrador retriever
Friends with Precious, the neighbor's "cat from hell"
Was supposed to be Kyle's pet, but somehow became David's
David's Baby Mamas
Pam Bell

David's classmate at Lincoln
Mother of Jacob "Coby" Dawson, David's son
David's age
5' 10", C cup, blonde, blue/green eyes, "legs that never seem to end;" surfer-girl
Relocated from Southern California at the beginning of sophomore year
Mother: Lacy Bell

Former Miss Teen California

Father: Calvin "Cal" Bell

Attorney at Rigby, Thompson and Associates
Tries to destroy David over Pam's pregnancy, but loses in the end

Sister: Cora Bell

Married to Devin Range, David's boss at Range Sports

Boyfriend – Dan (LA)

Ashley Kincaid

Meets David when he goes to football camp at University of Alabama
Mother of David's twin boys
Four years older than David
Long curly blond hair, blue eyes
Art History major
Mother: Marianne
Father: Hiram

Owns multiple transportation-related businesses in Alabama
Old money

Children

Dawson Douglas Kincaid
Allen William Kincaid

Boyfriend: Brett Lyons

Player
Ashley's father is pushing her to marry Brett's family more than Brett

Scarlet White

Meets David on unofficial visit to University of Alabama
Mother of David's only daughter
Four years older than David
Long silky black hair
Management major
Mother: Diana – Old money
Father: Wyatt

Has substantial land holdings in Alabama
Old money
Baptist

Children: Carol Ann White
Boyfriend: Clayton "Clay" Whatley

Redneck
Scarlet's father is pushing her to marry Clay

Peggy Pratt

One year older than David
Dated Greg Dawson at one time
David's nanny and housekeeper
Red hair
Attends State where she runs cross-country
Children: David "Little David" Pratt

Father: Mitch Evans
Informally adopted by David, who considers him his son
Best Friends
Tami Glade

Together with Jeff Rigger and Alan Douglas, David's best friend since first grade
Healthy girl-next-door look, long silky brown hair; nose is too big to be considered classic beauty
Tomboy, very smart
David has long been in love with her

She's rejected him multiple times, saying they need to grow up and experience life first
Has more than once treated David badly
She says they'll get together "someday"

Attends Wesleyan Academy, a private school
Mother: Melissa Glade

David's "second mom" (one of two)

Father was never part of her life, has his own family

Son: Jason Spalding III
Son: Braden Spalding

Birthday: May 24
Boyfriends/dates/lovers

Bert Nelson
Bryan Badcock – Wesleyan student
Trevor Lang
Simon – Brit who goes to school with Tami during her year in the UK
Paul Grogan

Teaching assistant in the UK
Teaches Tami about sex

Tim Foresee – David's friend and teammate

Beth Anderson

Three years older than David
Girl-next-door looks, long brown hair
Former high school cheerleader
Attends Purdue
Mother: Karen Anderson, a.k.a. "Mrs. A"

Carol Dawson's best friend from high school and college
David's "second mom" (one of two)

Father: Mr. Anderson

Works for UPS as a troubleshooter; travels a lot on business
Terrible grill-master

Dawson and Anderson families assumed Greg and Beth would marry; didn't happen
Boyfriends

Brook Davis

David's girlfriend senior year
David's age
Head cheerleader
Dark brown hair, brown eyes
Adrenaline junkie
Mother: Ava – Heir to L Brands fortune
Father: Ian – Political Science professor at State
Grandmother: Grace Davenport
Cousins

Breanne Davenport
Chelsea Cohen

Friends and enemies in Cincinnati

Makayla Riordan – friend
Kaia Chamberlin – queen bee enemy

Older sister: Lila Chamberlin
Mother: Claudia (née Müller) – Former model
Sycophant: Spencer Rhee (gay)
Sycophant: Sabrina Shiroma

Cassidy Hope

David's age
Transfers into Lincoln High School in the middle of freshman year
Slim and athletic
Brought up among Marines
David's security and his personal defense trainer
Father: Coach Anthony "Tony" Hope, a.k.a. Major Anthony Hope, USMC (Ret.)
Brother: Brad Hope, former Lincoln High School quarterback
Boyfriends

Wolf Tams
Jim Ball
Don Crown

Cindy Lewis

Three years ahead of David in school
Trains and makes over David to make him "dateable"
Attends Ohio State – majors in Interior Design
Boyfriends

Bryan
Greg Dawson (before Angie)
David Dawson
Kevin (defensive end at Ohio State)

Darius "Dare" Rossetti

Extremely bright, but socially inept
Transfers into Lincoln High in David's senior year

Several years younger than David, but only one class behind in high school

Mother: Dr. Rossetti – Professor at State
Girlfriend: Chrissy Schumann

Gina Tasman

Meets David their first term in high school
Very cute, silky long black hair, dark eyes, about 5'5"
Coffee-latte complexion; half Indian (south Asian), half Dutch
Sister: Kara Tasman
Boyfriends:

Alan Douglas
Mike Herndon

Halle James

David's age and class
Actress who meets David on Star Academy
5'5", long brown hair, green eyes, busty, very fit
Moves to Lincoln in junior year
Shares security staff with David
Mother: Rita James

Hollywood's sweetheart; compared to Grace Kelly
Brown hair, green eyes
Established actress

Brother: Trip James

Bisexual pretty boy
Regularly teases David about being attracted to him

Bandit – Rescue cat

Jeff Rigger

Along with Tami Glade and Alan Douglas, David's best friend since childhood
Died at the beginning of junior year while trying to rescue a girl from drowning

Suzanne Ball

White hair
Known as the Ice Princess when in high school
Three years ahead of David in School
Very smart, tutors David in high school
Attends Northwestern
Boyfriends

Tim Foresee

David's football teammate (center, linebacker)
Mother: Wendy – Businesswoman
Father: Conner – Writer
Girlfriend: Tami Glade

Tracy Dole

One year ahead of David in school
Head cheerleader
Gorgeous blonde
David's girlfriend freshman year
Birthday: September 13
Acts as press secretary for David's news conferences
Mother: Mary Dole

Chef – her father was a chef and restaurateur

Father: Tom Dole

Attorney at Rigby, Thompson and Associates
Represents David in his modeling career

Boyfriends

Tiny Dickson
Bill Rogers
Luke Herndon
David Dawson

Wolf Tams

David's football teammate (receiver, tight end)
Mother: Tiana

Runs David's produce stand

Father: Jared

Source of lots of bad jokes (for Wolf)

Girlfriends

Cassidy Hope
April Lacier
Sarah Spence

Yuri Ankatov

One year behind David
Mother: Nadia Ankatov – Professor at State
Grandmother: Yelena Ankatov

Lives on David's farm with Grandma Dawson
Survivor of the Siege of Leningrad

Girlfriend: Janet "Jan" Duke

Brunette, 5'9", C cup
Possibly the hottest girl in David's class

Zoe Pearson

David's age
Mennonite farm girl
Curly blond hair
Mother: Ruth Pearson
Father: Isaac Pearson
Brother: Rockefeller "Roc" Pearson

David's football teammate (receiver)
Two years behind David in school
Business
David A Dawson, Inc.
David Dawson – Chairman of the Board of Directors
Frank Ingram – Director
John Dawson – Director
Carol Dawson – Director
Juliet Dixon (aka 'Ms. Dixon') – Director
Beverly "Bev" Mass – Director
Rob Dawson – Chief Executive Officer
Caryn Buckley – President and COO

Formerly executive assistant for Devin Range
Berkeley MBA

Jack Mass – Chief Financial Officer
Megan "Mouse" Crowley – Finance/Technical/Research

Tips David off to Brandon Rigby's crimes

Shannon Goehl – Corporate Counsel
Farms
John Dawson
and Mrs. Hass
Lorraine "Grandma" Dawson
Yelena Antakov
Granny's West/Our House
Geri Throckmorton

Former assistant manager at Monical's
Has a crush on Greg Dawson

Granny – also proprietor of Granny's restaurant in a nearby town
Mary Dole

Chef whose father is a chef and restaurateur
Tracy Dole's mother
Tom Dole's wife

Jan Duke

Briefly dated David in middle school
Best-looking girl in David's class
History of drug use
Boyfriend: Yuri Antakov
Dawson Realty
Carol Dawson – Broker/President
Ashley Kincaid – Agent
Dawson Management
Frank Ingram – President
Kent Crain – Senior Manager
Kendal Miller – Lawyer/Manager
Angelina "Angel" Hargrove – Music/Manager/Agent
Aubrey Dunham – Model/Manager
Clare Thomas – Model Agent/Manager
Lexi Andon – David's PA

Father: Paul Andon – Studio executive for Star Academy movies
Acquainted with Alejandro "Alex" Sandoval

Lexi has a crush on him
Chilean soccer star
Sister: Maria
Stepmother: Camilla
Father: Umberto
IDC–Public Relations
Frank Ingram – PR Agent/Partner
Heidi Dicar – Partner
Summer Clarkson – Partner
Lily Harris – Social Media
Mass Investments
Jack Mass – Owner
Bev Mass
Other Related Businesses
Gould Agency
Ari Gould – Talent Agent
David's agent for movies
Wife: Kelly
UTA
Louise Ward – Talent Agent

David uses possibly going to her as leverage on Ari
Dixon and Dixon
Juliet Dixon – David's attorney

k.a. "Ms. Dixon"
Daughter of US Senator Dixon

Tom Dole

Formerly of Rigby, Thompson and Associates

Shannon Goehl

David A Dawson, Inc. corporate counsel
Married, attractive redhead

Maddie Addison – Criminal law
Duane Morris

Sports Attorney at Woodford & Morris
Former NCAA employee
Retained by Ms. Dixon to handle David's eligibility issues with the NCAA

Jason Voorhees – Attorney for David for his lawsuit in California
Security
Fritz – Security Head
Paul – Security staff
Chuck Lowery – Security staff
Jane – Security staff

Normally assigned to Rita James

Flo – Security staff

Normally assigned to Halle James

Manaia Matua – Security staff

Assigned to David when he is in LA
Samoan

Cassidy Hope – Security staff

Assigned to David when he's home in Lincoln
Also David's self-defense trainer
Lincoln Dojo
Shigehito "Shiggy" Yamamura – owner and instructor
Lincoln Flight School
Dawson household staff
Peggy Pratt – nanny
Aaron – "manny"
Lawrie – nanny
Melanie – cook and housekeeper
James household staff (LA)
Movies & TV
Star Academy
Science fiction feature film about a space military academy
Paul Andon – Studio Executive
Jessup Fields – Director
Janice Utley – Producer
Karen Least – Production Assistant
Movie cast
Bree Steno – Plays Amelia, Navigation Specialist
Elizabeth Paul – Plays Aiden, Engineer
Craig Wild

Plays Royal, Lead Character
Dies in terrorist shooting in Orlando, FL
Entourage
Kent Crain

Craig's manager
Pretty boy
Later goes to work for David

Chaz

Part of Craig's entourage
Drug dealer to the stars

Brother: Doug Wild

Rents house that David buys from Craig Wild's estate

Trip James

Son of legendary actress Rita James
Bisexual, continually teases David about being attracted to him
Halle James's brother

Halle James

Up-and-coming actress
Trip's sister

David Dawson – Plays Stryker, Combat Specialist

Dylan Howard – Fighting/firearms trainer
Tish Greco – Sword trainer

Ben Cowley – Plays Roman

Part David auditioned for, but then was given role of Stryker (bigger role)
Roman and Stryker are rivals
Girlfriend: Isabel Alexandra

Actress on the new Baywatch
Birthday: January 6
Friend: Groper

Ashley Judd – Plays Headmaster of Star Academy

Character is also Roman's mother
Refers David for part in the movie after meeting him at University of Kentucky fundraiser
The Secret Circle
Feature film based on book and TV series about a witches and warlocks' coven
Rita James – Producer
Karen Least – Production Assistant
Jessup Fields – Director
Movie cast
Halle James – Plays Cassie Blake
David Dawson – Plays Adam Conant

Gets baseball training as part of the movie contract

PBI – Pro Baseball Instruction
Rusty Camarillo – Chicago Cubs' hitting coach
Lucas Kite

Scout for the Cubs
Recommends David for Under-18 team

Coach Boyd – Dodgers' pitching coach

Emma Stoned – Plays Diana Meade
Zak Verwood – Plays Jake Armstrong
Tanya Bishop – Plays Faye Chamberlain
Jessica Abbot – Plays Melisa Glaser
Kate Upton – Plays Browning
The Royal Palm
Feature film about Cuba just before the missile crisis in the early 1960s
Laurent Vance – Director
Kitty Ellis – Assistant Director

Later director for Love Letters

Roger Brooks – Producer
Anita Haig – Production Assistant
Gabe Francis – Studio Head
Bob Trimble – Studio Watchdog
Movie cast
David A Dawson – Plays Sir Richard 'Rick' Jackson
Kimberly Fillmore – Plays Ceci, Jackson's love interest
Stewart Thatcher – Plays Callum Ascot of MI6

Later tagged to play James Bond in Devil May Care

Heath Rooter – Plays Mike Carter of the CIA
My Butterfly
Japanese TV drama (J-drama)
Cast
David A. Dawson – Plays Jason, evil villain

Hana Yamamura

Japanese tutor/interpreter for David
Shiggy's niece
Dates Jiro Yamashita

Haru Doi – Plays sister of missing girl

Up-and-coming star
Female lead

Ricky Nagai – Plays a police officer

Haru's real-life boyfriend

Akio Toyoma – Plays company chairman's son
Jiro Yamashita – Plays hip nerd

Hana Yamamura's real-life love interest

Koji Ueda – Plays jock
Dessert First
"Puff piece" segment for TV news shows
Cast/Production
Tracy Dole
David A. Dawson
Marshal – Camera work and lighting
Curtis – Camera work and lighting
Devil May Care
James Bond feature film
Charles "Chubby" Feldman

Big-time director
Specializes in action movies
David meets him at a party at Chubby's mansion during production of Star Academy

Mark Harm – Producer
D. Ma – Technical Advisor

American-born Chinese (female)
Movie cast
Stewart Thatcher – Plays James Bond

Worked with David on The Royal Palm

Rita James – Plays Professor Inga Bergstrom

Was Bond girl in Tomorrow Never Dies

David A. Dawson – Plays Ian Bond

Character is son of James Bond
Double oh eleven

Mia Hilliard – Plays Bianca Fields

Up-and-coming action movie actress

Isabel Alexandra – Plays Miss Moneypenny

Ben Cowley's real-life girlfriend
Was also in the new Baywatch

Grant Quigley – Plays M, the chief of MI6

Older British political type

Geoffrey McGowen – Plays Q, gadget guy

Part of British Secret Service
Young black Scottish guy

Gustav Drax – Plays archvillain
Love Letters
Dramatic romance feature film (ala The Notebook)
Kitty Ellis – Director

Worked with David on The Royal Palm
Movie cast
Halle James
Zander Lewis
David A. Dawson
Ben Cowley – Replaces Zander Lewis
College First
Japanese TV series set in the US
Daisuke Otsuki – Director (male)
Robert 'Rob' Dawson – Coaches actors on golf
Cast
David A. Dawson – Plays American college student

Lexi Andon – David's PA
Manaia Matua – David's Security
Hana Yamamura – Japanese Tutor / Interpreter

Makoto Noguchi – Plays golf coach (male, 40s)
Tsuyoshi Nomura – Plays dean

Male, 40s
Actually Chinese; immigrated to Japan and changed name
Mentor for David

Tomoko Onishi – Professor (female, 30s)
Haru Doi – Female lead
Misaki Hayashi – Female
Kana Kojima – Female
Ai Sakamoto – Female
Jiro Yamashita – Plays hip nerd

Hana Yamamura's real-life love interest

Kenta Ando – Plays David's rival for Haru Doi's character
Rita James' TV Christmas Special
Old-fashioned TV variety show for the holiday
Rita James – Producer
Cast
Halle James
David A. Dawson

Jett from Birthrite is his voice coach for this

Birthrite

Rock band David meets on a flight to LA
Members

Jett – Lead singer
Hana
Riley
Amy

Angelina "Angel" Hargrove – agent

Priyanka 'Pree' Amarnath

Indian singer (rocker)
Meets David on a flight to LA
Has just been through rehab
Sports
NCAA
Mark Ellison – NCAA President
Jim Phelps – Member of Governance Committee / AD University of Michigan
Jackie Davis – Chairman, Initial Eligibility Waiver Committee
Steve Anchorage – Chairman, Amateurism Fact Finding Committee
Stewart Chadwick – Investigator
FBI
Investigating shoe-company payoffs to athlete recruits
Special Agent Bryn out of the Chicago FBI office
Special Agent Venture (female)
Supervisory Special Agent Jakes
Lincoln High School
Athletics training staff
Hasting – Head Trainer

Also works/teaches at State

Jill Kim – Trainer and Strength & Conditioning Coach
Becky Grimes – Trainer
Doc Grog – Head of training staff at State
Connor Fletcher – Outside Strength & Conditioning Coach
Joey Marshall – In-house Strength & Conditioning Coach

Dark hair, dark blue eyes, athletic, great figure
David lusts after her
Cheerleaders
Pam Lowden – Cheerleading Coach
Varsity
Ann Conway

Strawberry blonde, braces
Junior

Brook Davis

Head Cheerleader
Dark brown hair, brown eyes
Senior
Boyfriend: David Dawson

Carmela Hernandez

Dark brown hair
Junior
Responsible
Gabriella Hernandez's cousin
Boyfriends

One of the Callahan brothers
Wayne Turk

Destiny Crown

Dark blond hair
Senior
New to Lincoln
Brook's frenemy; schemes to take over as head cheerleader
Boyfriends: Bryan and Brock Callahan

Emma Richardson

5'10"
Brunette
Junior
Piper's fraternal twin sister
Boyfriend: Neil Presley

Faith Daniel

5'6", long black hair
Junior
Serious

Gabriella Hernandez

Dark brown hair
Junior
Responsible
Carmela Hernandez's cousin
Boyfriends

One of the Callahan brothers
Ray Quinn

Jan Duke

Brunette
Senior
Drug habit; started when her father went overseas for a years-long assignment
Boyfriend: Yuri Ankatov

Kylie Ruttier

5'5", curly blond hair
Junior
Described as perky and frisky
Has had a crush on David
Boyfriend: Nick Rake

Lisa Felton

5'2", maybe 100 pounds
Senior
Possibly sexiest girl at Lincoln High
Boyfriends/dates

David Dawson
Gary Baxter
Brad Hope

Piper Richardson

5'8", blonde
Junior
Emma's fraternal twin sister

Zoe Pearson
Junior Varsity
Freshmen
6 girls, 5 unidentified
Jill Lacier

Head Freshman Cheerleader
Blonde
Freshman
Model looks
April Lacier's younger sister
Birthday: January 12
Has had a crush on David since she was 13, vowed to pursue him
Boyfriend: Phil Prince
Football
Lincoln High Coaches
Anthony Hope – Head Coach

Major, USMC (Ret.)
Succeeded Coach Lambert

Bud Mason – Offensive Coordinator / Skill Positions

Retired Oakland Raiders offensive coordinator

Coach Stevens – Offensive Line / Special Teams / JV Coach
Coach Rector – Defensive Coordinator
Moose Donovan – Secondary
Coach Stork – Defensive Line / Linebackers / Freshman Coach
Alan Douglas – Student Assistant Coach

Film / Software / Scouting / Freshman Assistant
David's best friend since childhood
Varsity Offense
David Dawson – Quarterback / Senior
Ty Wilson – Tailback/Senior
Kelly Holcomb – Fullback/Senior
Johan Bauer – Center / Guard / Senior
Bryan Callahan – Right Guard / Senior
Brock Callahan – Left Guard / Senior
Milo Bauer – Left Tackle / Sophomore
Neil Presley – Right Tackle / Junior
Wolf Tams – Tight End / Senior
Rockefeller 'Roc' Pearson – Wide Receiver / Sophomore
Ed Pine – Wide Receiver – Senior
Varsity Defense
Dan Ball – Nose Tackle / Junior
Bryan Callahan – Defensive End / Senior
Brock Callahan – Defensive End / Senior
Tim Foresee – Middle Linebacker / Senior / Captain
David Dawson – Middle Linebacker / Senior
Yuri Antakov – Outside Linebacker / Junior
Ray Quinn – Outside Linebacker / Junior
Nick Rake – Cornerback / Junior
Wayne Turk – Cornerback / Junior
Bert Nelson – Safety / Senior
Ed Pine – Safety / Senior
Kicker
Derek Hofmann – Punter / Place Kicker / Junior
Backups
Trent Buchannan – Quarterback / Junior
Phil Prince – Running Back / Receiver / Sophomore
Howard Lewis – Lineman / Junior
Carl Lewis – Lineman / Senior
Vinnie Brown – Lineman / Junior
Don Crown – Tight End / Receiver / Junior
Tom Wells – Receiver / Junior
Justin Tune – Safety / Senior
Carlos Inglis – Linebacker / Junior
Milo Bauer – Nose Tackle / Sophomore
King High School game
Annual overnight travel game for Lincoln High, this time in Indianapolis Colts' stadium
King High School is ranked in the top 25 nationally
Todd Davis – Linebacker

6'3", 240 lbs.
5-star recruit
Broadview Academy game
Annual overnight travel game for Lincoln High, this time in St. Louis at The Dome
Percy Wilkes – Defensive end

6'7", 270 lbs.
Number 1 recruit
Michigan Camp at Lincoln High
Coach Haber – Head Coach
Coach Title – Offensive Coordinator

Publicly dresses down David for wanting to play baseball as well

Coach Hightower – Passing Coach
Coach Offutt – Defensive Coordinator
Non-Lincoln attendees

Gabe Verity – Washington High School
Hack Eaton – St. Joe High School
Larry Dell – Elite 11 MVP (David did not compete)
Matt Long
Jaylen Kent
College Teams
Alabama
Craig Wilson – Head Coach

Wife: Ms. Ruby, recruiting secret weapon

Ben Peters – Offensive Coordinator
Bo Harrington – QB Coach
Bill Daniels – Conditioning Coach
Recruits
Jim Ball – Offensive lineman

Played with David at Lincoln High

Wes Hunt – Quarterback

From Phoenix, AZ
Co-MVP with David at Elite 11 camp

Dan Berger – Receiver

From Phoenix, Arizona
On David's Elite 11 seven-on-seven team
Others
Ashlie Kincaid, student, tour guide
Scarlet White, student
Clemson
Coach Swank – Head Coach
Coach Dicks – Offensive Coordinator / Receivers
Coach Brady – Quarterbacks Coach/Recruiting Coordinator
Coach Sarafian – Linebackers
Recruits
Chuck Tess – Quarterback

From Greenville, South Carolina
Met David at Elite Camp

Terry Halsted – Wide receiver

From Syracuse, New York
Met David at Elite 11 camp
Florida
Georgia
Irritates David when they decide not to pursue him as a recruit
Tim Start – Head Coach
Carl Freeman – Offensive Coordinator
Darrel Rodgers – Director of On-Campus Recruiting
Iowa
Upsets David when they pull their offer of a visit because he's been accused of rape
Coach Dallas – Offensive Coordinator and Recruiting Coordinator

Attempts to reverse Iowa's fortune after David is found innocent of all charges
Kentucky
Matt Styles – Head Coach

First to offer David a scholarship

Don Berta – Recruiting Coordinator
Ned Braun – Offensive Coordinator and Quarterback Coach
BJ Erikson – Defensive Coordinator / Linebacker Coach
Others
Marcy – Chaperone for David's visit
John Phillips – quarterback
Ashley Judd – Actress

Kentucky booster
Recommends David for her movie
Michigan
Coach Haber – Head Coach
Coach Title – Offensive Coordinator
Coach Hightower – Passing Coach
Coach Offutt – Defensive Coordinator
Recruits
Wes Hunt – Quarterback

From Phoenix, Arizona
Co-MVP Elite 11 with David

Dan Berger – Wide receiver

From Phoenix, Arizona
Elite 11 receiver on David's seven-on-seven team

Oliver Williams – Offensive Tackle from Phoenix, AZ
Max Wilcox – Defensive Tackle from Detroit, MI
Jay Edwards – Linebacker from Dearborn, MI
Others
Rick Thomas – Sophomore Tight End / Chaperone
Derick Larson – Junior Wide Receiver / Chaperone
Violet – Greeter / tour guide

Guides David's group of recruits junior year
Later meets David at a swingers party

Brianna – tour guide
Sadie – Gymnast

Senior
Goes to a swingers party with David
Michigan State
Coach Bailsman – Quarterbacks Coach and Recruiting Coordinator
Chip Ellis – Quarterback

David's tour guide and chaperone
Northwestern
Coach Patrick – Head coach
Gus Lawrence – QB / Sophomore

Tour guide for David's visit
Recruits
Felix 'Flee' Johnson – Quarterback

From Miami, Florida – Sr. / Undecided)
Meets David at Elite Camp
Girlfriend: Candy

Ben Luck – Quarterback

From Springfield, Missouri
Meets David at Elite Camp
Others
Suzanne Ball

Student
Knows David from Lincoln High
Lydia Rogers' roommate

Lydia Rogers

Student, Suzanne Ball's roommate
Spends the night with David on his visit junior year

Christen Harper – Lives on the same dorm floor as Suzanne Ball
Maya Johnson – Student
Savannah Bays – Student
Notre Dame
Upsets David when they pull their scholarship offer because he's been accused of rape
Coach Brian – Head Coach
Coach Easton – Offensive Coordinator
Chad Kelly – Tight End

Chaperone for David's tour
Recruits
Todd Davis – Five-star linebacker recruit
Ohio State
Coach Wes Casey – Head Coach
Coach John Lunt – Quarterback Coach
Fred Rogers – QB / Chaperone
Others
Kevin – Cindy Lewis's boyfriend
Oklahoma
Coach Bob Michaels – Head Coach
Coach Nick Riley – Offensive Coordinator / Quarterbacks coach
Coach Tom Michaels – Defensive Coordinator
Coach Kit Reynolds – Linebackers
John Mercer – Director of Football Operations
Jordan Murphy – Sophomore quarterback

Tour guide for David's visit
Recruits
Tomas Rios – Quarterback

6'2" 195 lbs.
From Dallas, Texas
Parents: Carlos and Elena
Oregon
Treated David poorly when he unofficially visited due to mix-up as to his identify
Coach Faber – Head Coach
Stanford
Clashes with David over Stanford staff's tardiness and insistence that he be measured again
Donald Jackson – Head Coach
Coach Bloomberg – Offensive Coordinator
Coach Pichette – Quarterbacks/Wide Receivers coach

John Glass – Wide Receiver

Participates in David's workout

Terrance Carson – Wide Receiver

Participates in David's workout
State
David made a soft commitment to play football at State to save Luke Herdon's scholarship, later retracted when recruiting got serious
Luke Herndon – Running back

Former teammate of David at Lincoln High

Mike "Magic" Wade – Defensive back

Former teammate of David at Lincoln High

Kevin Goode – Linebacker

Former teammate of David at Lincoln High
USC
Coach Clayton – New Head Coach
Ridge Townsend – Quarterback

Penny – High school sweetheart

Bill Callaway – Wide receiver

Girlfriend: Sage

Model who has worked with David
David introduced them
USC Camp
Ridge Townsend – Quarterback

Meets David at camp where they compete
Becomes friends with Bill Callaway when Bill goes to USC
Girlfriend: Penny – High school sweetheart

Hunter Green – Quarterback

From San Diego
Joker
Built like Ben Roethlisberger
Little experience with women

Mia Love

Cute Eurasian
USC student who latches onto Hunter Green
Ava Shultz's roommate

Ava Shultz

Blond
USC student who latches onto David
Mia Love's roommate

Rose

Ford Model
5'8", 34B bust, Latina, brown hair and brown eyes
Has worked with David
Comes to see him at USC Camp
Southwest Central State
'The Big Blue Machine'
Recently moved up to Division I and joined the Interstate Conference
Tobias "Toby" Foster – Quarterbacks Coach
Springbok – Shoe company that sponsors SWCSU athletics

Gordon Parker – Vice President
Wisconsin
Coach Paul – Head Coach
Coach Sleigh – Assistant Head Coach / Offensive Coordinator
Coach Lennart – Defensive Coordinator
Coach Boss – Inside Linebackers Coach
Coach Chet – Tight Ends Coach
Coach Bud – Quality Control Coach
Others
Amy Springs – Student

Sits next to David on bus to a football game
When David shuts her down, she moves on Tim Foresee

Dawn – Student

Plays basketball at Wisconsin
Sits next to David when Amy Springs gives up
Boyfriend: Brian
Baseball
Lincoln High Coaches
Moose Donovan – Varsity Head Coach
Coach Diamond – Varsity Coach
Steve Herndon

Volunteer pitching coach
Mike and Luke Herndon's dad

Shigehito 'Shiggy' Yamamura – Volunteer pitching coach
Coach Haskins – Volunteer JV head coach
Anthony Hope – JV
Alan – Stats
Lincoln High Varsity
Starters (batting order)
(8) Tim Foresee – Catcher
(4) Wolf Tams – 1st Base / Right Field
(5) Brock Callahan – 2nd Base / Pitcher
(3) Bryan Callahan – Shortstop / Pitcher
(2) Ty Wilson – 3rd Base / Center Field
(6) Milo Bauer – Right Field / 1st Base
(1) David Dawson – Center Field
(7) Don Crown – Left Field
Pitching
Justin Tune – Pitcher / Infield
Bert Nelson – Pitcher / Outfield
David Dawson – Pitcher
Brock Callahan – 2nd Base / Pitcher
Bryan Callahan – Shortstop / Pitcher
Trent Buchannan – Pitcher
Phil Prince – Pitcher
Backups
Ed Pine
Neil Presley – Outfield
Nick Rake – Shortstop
Wayne Turk – Second Base
Ray Quinn – Third Base
Dan Ball – Outfielder

Jim Ball's cousin
Sophomore

Rockefeller 'Roc' Pearson
Kelly Holcomb
Chicago Cubs
Bill Carl – Part owner

Wife: Elinor
Grandniece: Heather Carl

Works as batgirl when David is batboy
Sophomore at Harvard

Lucas Kite – Scout
Rusty Camarillo – Batting coach
Dan Palmer – Home Clubhouse Manager
Kurt – Home plate umpire for Cubs World Series game
Lincoln High School
Staff
Palm – Vice Principal
Hicks – Athletic Director
Sam Spooner – School District Attorney
Jaroslav – Guidance Counselor
Pam Lowden – Cheerleader coach and math teacher

Young blonde
Math degree with education minor from Notre Dame

Dutton – Science teacher
Hedge – English teacher
Cruz – Spanish teacher
Quiroz – Business and Econ teacher
Saunders – Art teacher
Sullivan – Booster Club President

and Mrs. Sullivan own a local car dealership
Students
Bill Rogers

Drug user and dealer; sociopath
Abused Tracy Dole for months

Drugged and raped her
He and Tracy covered up an accident, and Bill used that to blackmail Tracy to be his sex slave
Refuses to accept that Tracy doesn't want him
Has attacked her more than once since she broke away from him

Fought David when David came to Tracy's rescue

Bill nearly killed her
David and Bill nearly killed each other

Expelled from Lincoln High
Serving jail time until 18
Hates both David and Tracy with a passion

Britanie "Brit" Callahan

Triplet sister to Bryan and Brock
Blonde, busty, Nordic goddess looks
Owner of Precious, the "cat from hell"

Chrissy Schumann

Newcomer to Lincoln High who dates Dare

Curtis

In David's photography class
Helps with Dessert First and with Duke's election campaign

Lily Harris

David saved her life when she was drugged and drunk at a party
David was her first; she has a major crush on him
Her mother abandoned the family several years ago
Has managed David's social media accounts from the beginning

Lisa Felton

5'2", maybe 100 pounds
David's classmate
Possibly sexiest girl in Lincoln High
Became a cheerleader senior year
Working with David's friends to rehabilitate her reputation
Brother: Billy

Cancer patient who David has visited in the hospital while doing volunteer work

Boyfriends/dates/lovers

David Dawson – treated her badly
Gary Baxter
Brad Hope

Marshal

In David's photography class
Helps with Dessert First and with Duke's election campaign

Pete Yoder – Bully who threatens Dare
Sun Ling

k.a. "Math Girl" – classmate who's in David's math class freshman year
Asian, average-looking
Homeless orphan whom David rescues

She lives with his family for a time
They become friends
Eventually the church helps to find her a foster home

Boyfriend: Jake Adar

Wesleyan Academy
Private boarding school, primarily for the wealthy
Teddy Wesleyan
Very wealthy, old money
Believes everyone is after his money
Has tried to convince David to go to Wesleyan and play sports
Students
Tami Glade

David's best friend
Went to school with David from first grade through middle school
After middle school went to Wesleyan on a scholarship

Alan Douglas

Together with Tami Glade and Jeff Rigger, David's best friend since early childhood
Pudgy nerd with "crazed-poodle hair"
Very smart, but poor impulse control

Posted Lisa Felton's private diary to school server
Had been mostly kept in line by Jeff Rigger while Jeff was alive

He and David had a falling out, starting with David finding Alan and Tami in bed together in junior year
Transfers to Wesleyan senior year
Girlfriends

Damion Roth

Randy Moss look-alike wide receiver
6'6", 230 lbs.
Meets David at Elite 11 Camp
Has academic issues

David helps him get into Wesleyan

Mike Herndon

David's classmate through junior high and much of high school
BMOC in his class at Lincoln until David displaced him freshman year
Played both football and baseball with David
Father: Steve Herndon

Volunteer baseball coach
Dated Carol Dawson when they were in college

Brother: Luke Herndon

Running back at Lincoln High and at State
Had a falling out with David when he and others blamed David for losing a playoff game

Has a record of pursuing other guys' girlfriends

One such incident led to him transferring to Wesleyan in junior year

Girlfriends
Missy Stone

Tammy's classmate; meets David at Wesleyan Christmas dance
Dead ringer for Tracy Dole, but with red hair, alabaster skin, and green eyes
Called "the Queen of Wesleyan"
Has an identical twin sister Lisa
Other Cast Members
Adrienne Moore

Known simply as "Adrienne" or "the Adrienne"
Supermodel, semi-retired
David's mentor and modelling agent
Owns AT Modeling together with her life partner
Life partner: Tyler Helton

Anthony "Little Tony" Giovanni

Meets David when David is out on a date with Miranda Kesh
Becomes David's ally and supporter when David works to get Brandon Rigby prosecuted
Part of a Mafia family, working to get them straight
Sister: Pia

Helps provide security for David when he's attacked in Mexico

Crossover character from Little Tony stories

Bec Carson

Actress who meets David at Zak Verwood party
Zak has had a major crush on her for years; she becomes his girlfriend

Billy Delaney

Lincoln city police officer
Friend to both Greg and David Dawson

Birthrite

Band David meets on a flight to LA
Members
Jett – Lead singer
Hana
Riley
Amy

Angelina "Angel" Hargrove – agent

Brandon Rigby

Nephew of Don Rigby of Rigby, Thompson and Associates
Hired as David's PA, replacing Kendal Miller
Drugs and rapes Tami Glade while on a recruiting trip
Turns out to be a serial rapist

David plays a principal role in building the case against him
This gains David the admiration and friendship of Anthony "Little Tony" Giovanni

Devin Range

CEO of Range Sports
Hires David to be the face of the company's youth line
Has a falling out when he goes after David's women
Married to Cora Bell, Pam's sister
Sister: Sandy Range

She first identified David as the model for their company
Working on MBA at Berkeley

Gwen Larkin

British actress who meets David and Brook in Palm Springs

Jeff Delahey

Local newspaper sports reporter
Conducts documentary on David's sports career

Jeremy Pike

Psychic who tells David he has five children

Jonas Hill

k.a. Mr. Hill
Owns Hill Advertising
Was first to hire David as a model for newspaper inserts
Daughter: Janet Hill

Attends Wesleyan with Tami Glade

Wife: Mrs. Hill

Owns graphics design business
Sells David's modeling photos

Kate Upton

Supermodel who does modeling with David and appears in a movie with him
David lusts after her

Persistent campaign to get her to go to Prom with him

Lexi Andon

Meets David at a party thrown by one of Halle's former classmates in LA

Queen bee bitch when David first meets her
Almost starts a fight

David meets her again on a studio yacht and has sex with her
Father: Paul Andon, studio executive

Margaret Chin

ESPN sideline reporter
Interviews David at Northwestern, before the King game, at the ESPYs, and before the Broadview Academy game

Maria Dowe

Halle's classmate in LA
Wannabe porn star

Natasha

Early 20s
Front person for an escort service in Atlanta

Nolan Gold

Young actor on Modern Families who meets David at Zak Verwood party

Padraig "Paddy" O'Malley

"Fixer" who's hired by Zander Lewis to convince David to give up his lawsuit

Paulina

Trophy wife of David's Malibu neighbor
Daughter: Teresa

Phoebe Andrews

Former actress who was harassed by Zander Lewis
Speaks at press conference to defend herself and others harassed

Precious

The neighbor's "cat from hell"
Suspected to be part bobcat
Has a litter of kittens in David's apartment, including "Satan's Spawn"

Halle's cat Bandit is the father

Rita James

Hollywood icon; compared to Grace Kelly
Brown hair, green eyes
Sophisticated and elegant
Almost 40, but could pass for 25
Moves her family to Lincoln junior year to get her son Trip out of Hollywood for rehab
Producer

The Secret Circle
TV Christmas Special

Actress

Plays Professor Inga Bergstrom in Devil May Care
Was Bond girl in Tomorrow Never Dies

Daughter: Halle
Son: Trip

Sasha

Young Australian actress who meets David at a Zak Verwood party

Teresa

Hired as a housekeeper at David's rented Malibu house
Has a crush on David
Mother: Paulina

Thomas Fox

5'8", slim, and completely forgettable
Bottom 4% of his law school class at State
Had to take the bar exam 6 times
Office is in one of those rented shared workspaces
Represented Cal Bell in the proceedings against David for the alleged rape and abuse of Pam Bell, and the subsequent civil negotiations
Also represented Brandon Rigby in his defense against serial rape allegations
Plays it fast and loose, with little concern for collateral damage (or the truth)

Zander Lewis

No relation to Cindy
Stars opposite Halle James in Love Letters
Ohio State – Remodeling David's house in Malibu
Dean Lloyd – College of Engineering
Professor Donaldson – Knowlton School/Architecture
Professor Katz – Interior Design
Cindy Lewis

Part of team for David's house remodeling in Malibu
Knows David from high school
Politicians
Governor Kurt Higgins

Wife: Betty

David buys her a jersey at Cubs game

Was mentored by Davey Dawson, David's grandfather
David helps him, Senator Dixon, and Bev Mass at campaign rally
Sits with David at Cubs game
Presents David with an award for setting the national high school record for passing yards in a single game

Senator Dixon

US Senator
Attends John Dawson's wedding
David helps him, Governor Higgins, and Bev Mass at campaign rally
Daughter: Ms. Juliet Dixon, David's attorney

Senator Caster

US Senator
Attends John Dawson's wedding

Beverly "Bev" Mass, Cook County State's Attorney

Also on David's Board of Directors
David helps her, Senator Dixon, and Governor Higgins at campaign rally
Husband: Jack Mass
Daughter: Harper Mass, formerly David's girlfriend

Scott Mason

Holds press conference to pronounce David innocent of all charges against him in rape accusation