Stupid A Stupid Boy Story
Box Sets
TAGS: Coming of Age, Humor, Sports, Football, Baseball, Romance
This book is intended for mature audiences.
Freshman Year Box Set
Stupid Boy: The Beginning
Freshman Year: Fall
Freshman Year: Spring
Freshman Year: Summer
The first four novels in they A Stupid Boy Story series. Books in this series have been downloaded over 4 million times and won multiple awards.
This series is about a small Midwestern town filled with cute girls, Friday-night football games, and life lessons that stir up some major drama and fun.
To everyone who knows him, David Dawson is your stereotypical nerd, the good kid who has a great family life and good friends. A cute girl, way out of his league—according to his friends—leads him astray. His sudden shift to hanging out with the wrong crowd sends him spiraling into teenage depression and upsets his best friends. It all comes to a sudden end when a girl at a party he throws almost dies beginning the A Stupid Boy Story series.
Freshman Year: Box Set encompasses the first four books of the series.
---
What People are saying:
"Thank you for one of the best reads ever! Over the many decades I've read thousands, maybe tens of thousands of books, from classics to somewhat lesser quality downloaded from the 'net. But for pure entertainment value, this incredible series never has slow parts, one can't help but stay engaged, and has me laughing out loud so much, well, let's just say I've gotten used to my wife's odd looks when I'm sitting there with tears rolling with my laughter.
Yes, I admit that I re-read these books. And I can see doing that again. Some books and some series are readable one time. Once only. You've done something special here. "
Buy Now for $9.99: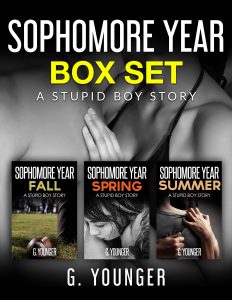 TAGS: Coming of Age, Humor, Sports, Football, Romance
This book is intended for mature audiences.
Freshman Year Box Set

Sophomore Year: Fall
Sophomore Year: Spring
Sophomore Year: Summer
Continuation of the epic Stupid Boy saga.
This series is a sexy comedy with just enough sports and adventure mixed in to make it unforgettable. Join this 'stupid boy' as the girls in his life guide him through the highs and lows as he tries to navigate through sophomore year of high school.
The Stupid Boy Series is a collection of books about the coming of age of a remarkable young man.
Sophomore Year: Box Set encompasses books 5 – 7 of the series.
---
What People are saying:
"I purchased this set directly from the Author earlier this year. I've found it one of my favorites in the genre of coming-of-age, fantasy, sports, success, sex … or whatever you want to call the genre. The author is one of the best I've found at integrating detail, humor, romance, wish-fulfillment, etc in a book. He includes a great and detailed list of characters. The story goes into detail about high school, romance, sports (football and baseball) finance, modeling, acting… and so much more. Give it a try if you're in the mood for something different and exciting.
Note… there will be follow on stories coming from this author. I've read his Sophomore and Junior Year stories and they are even better!."
Buy Now for $9.99: