A Stupid Boy Story
Books in series
Read an Excerpt:
ISBN: 978-0-9988371-3-0
TAGS: Coming of Age, Humor, Sports, Football, Romance
The first novel in a brand-new series from award-winning author G. Younger about a small Midwestern town filled with cute girls, Friday night football games, and life lessons that stir up some major drama and fun.
To everyone who knows him, David Dawson is your stereotypical nerd, the good kid who has a great family life and good friends. A cute girl, way out of his league—according to his friends—leads him astray. His sudden shift to hanging out with the wrong crowd sends him spiraling into teenage depression and upsets his best friends. It all comes to a sudden end when a girl at a party he throws almost dies.
It is his crucible. Crucible is a great word. It means to go through a severe test. For David, it means he must take responsibility for his actions. He is sent to his uncle's farm for the summer to get his life back on track. What he doesn't know is his uncle John has a degree in child psychology. With a combination of hard work and long talks, he begins to pull his life back together.
When he returns from his exile, he's changed. He is no longer the slightly pudgy-looking nerd due to a growth spurt and hard work on the farm. His best friend, Tami Glade, isn't quite sure what to make of her 'stupid boy.' Before he was sent to the farm, she'd screamed at him out of frustration that she never wanted to see him again.
David has changed. He is suddenly popular, way too handsome for his own good, and going out for football. The changes aren't just physical. He seems more confident and focused. He even has Life Goals. Tami isn't quite sure what to make of the new David. Her 'stupid boy' of a best friend has been transformed into a hunk. The problem is, he doesn't realize it, and she isn't sure if they should be just friends, or more.
This book is intended for mature audiences.
What People are saying:
"If you haven't read this story, you've done yourself a grave disservice. For anyone anywhere who's been a fan of a coming of age story, this is one for the books."
"When I found "Stupid Boy" I hit the jackpot! I couldn't put it down!"
"I enjoyed your series so much and I find myself an emotional wreck."
"Frick! I can't sleep because of you."
"Truly a masterpiece."
Buy Now for $4.99:
Buy Paperback for $14.99/Free eBook: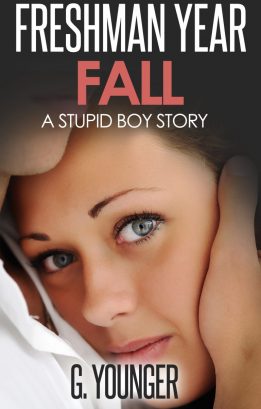 Read an Excerpt:
ISBN: 978-0-9988371-4-7
TAGS: Coming of Age, Humor, Sports, Football, Romance
Second book of A Stupid Boy Story series.
David Dawson went from being a middle school nerd to being a high school freshman, preoccupied with the concerns of any teenage boy. Then his uncle signed him up to play football. No one ever said life was easy. David is suddenly the wonder boy who is forced to step in and play when the team's quarterback is injured. The whole community has its hopes and dreams riding on how he performs.
If that pressure weren't enough, he has to navigate his newfound popularity and girls. Thankfully, he has an older brother that's willing to help him. That doesn't mean he won't make mistakes. David manages to survive life's complications with the help of his sense of humor, his football buddies, and the girls in his life. He has to figure out how to hold on to what's important, even when everything seems to be falling apart.
The Stupid Boy Series is an epic coming-of-age romance story with sports sprinkled in. It has been called unforgettable and is alternately hilarious and painful, awkward and enlightening.
This book is intended for mature audiences.
Buy Freshman Year Spring Soon!

What People are saying:
"The story is rich and the characters vibrant. I loved every second of it, picturing distinctly different people and attitudes throughout."
"Greg describes football games in detail, and manages to avoid making the reading tedious even to someone like me who was never a sports fan."
"Is it a good story? Yes.
It it worth reading? Yes.
Does it end with a monster cliffhanger? Yes.
Am I waiting for the sequel? Yes"
Buy Now for $4.99:
Buy Paperback for $14.99/Free eBook: